As a makeup artist we can understand how overbooked designers, models, actors and makeup artists are on the first Monday of May. The Met Gala! If there's ever a time to get creative with your hair and makeup look, it's at the Met Gala. If you're not familiar with the rules of the star-studded event, invited guests are encouraged to dress to match the Metropolitan Museum of Art's exhibit. The theme for this year's event: "Heavenly Bodies: Fashion and the Catholic Imagination.
Though people feel that it's all about clothes and headgear, the Met Gala isn't just about the fashion. It's about the overall look, and that means it's also the ultimate opportunity to show off with a major beauty looks. The evening is no time to play it safe when it comes to beauty, and for the 2018 event, celebrities and fashion folk drove that point home. The beauty tips that you can pick from this one evening are really insane! The red carpet also went all-out with intricate veils, crowns, halos, regal head pieces and in one case, a literal pope hat. If there's ever a time to get creative with your hair and makeup look, it's at the Met Gala. Here are some of the top beauty looks that we loved. Do make sure that you bookmark so that you can pick your ultimate beauty tips from!
Kim Kardashian
If we had to give out an award for best makeup look of the 2018 Met Gala, it would go to Kim Kardashian, no questions asked. One of the best beauty tips that we would pick was her eye makeup and nude lippie. But how do you get such a clean look? If you want the skin to be flawless in front of a camera, moisturizer is the key when prepping the skin. It not only adds hydration but also allows the foundation and powder to adhere to the skin nicely.
Gig Hadid
She can make you forget popes, royals and angels too! Gigi ruled the red carpet as she channelled another type of angel for this year's Met Gala: legendary actress Brigitte Bardot. The centre-parted style, pinned back and teased at the crown, reminded us of a very famous face from the '60s.One of the beauty tips that we loved was the subtle winged liner that the supermodel donned!
Blake Lively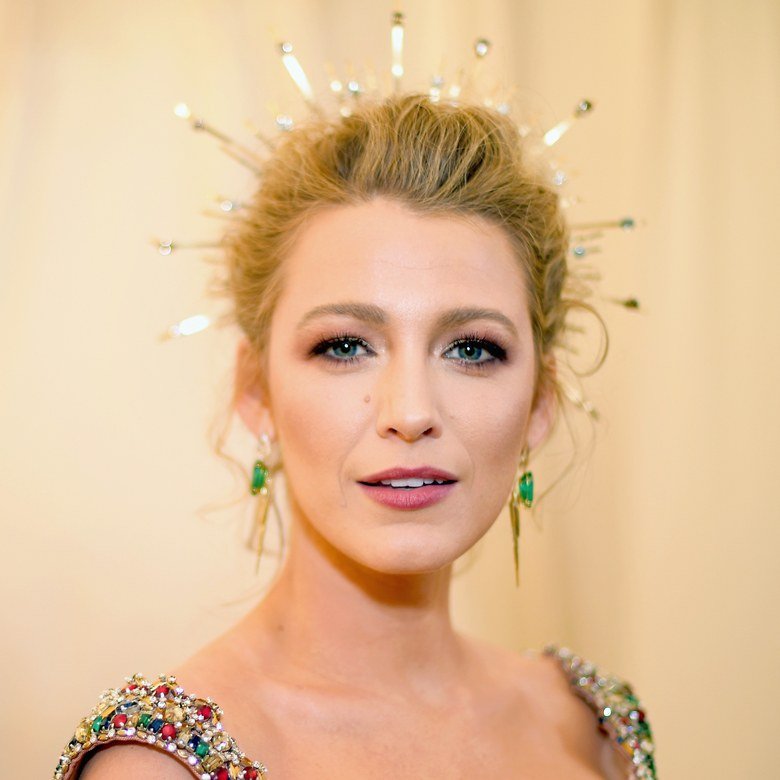 Blake Lively could not have looked more regal on the Met Gala red carpet in a gold bodice and maroon brocade gown. She looked like Cersei (our love for Game of Thrones!) but even better with her halo. For more of a regal take on the night's theme, Lively chose jewel-tone shades for her eyes and lips to pair with her tousled up do and gilded crown. A beauty tip for all you girls, who love pink, is to avoid poppy colours all the time and opt for a matte colour!
Emily Ratajkowski
If sexy was a person, Emily Ratajkowski embodied it. With a brown lip colour and bold brows, she carried that gold gown with equal elan. We specially loved the loose tendrils around her studded hairband.
Amber Heard
This look was a treasure house of beauty tips. The sleek hairdo with the crown painted with gold went perfectly the theme. The great goth lip look, framed by a headpiece of linear rays was ideal with the highlighted cheekbones.
Lily Collins
If you are looking for drama on the Met Red Carpet, look no further than Lily Collins. She had perhaps the most dramatic approach to the "tears" look: one single, bloody teardrop amidst some crystal eyeliner. The beauty tip to pick from this look was the gorgeous bold brows and glossy lips.
Bella Hadid
Black beauty with a shine of gold. Her all-black attire was stunning to say the least but it was Hadid's gold accents took centre stage. The gilded hairpieces! The best beauty tips to pick from her look were the shimmery shadow at the inner corners of her eyes and pairing it with a minimal look all around. We can't get enough of her gold.
Gisele Bundchen
The golden girl! The makeup look Gisele sported a beautiful golden glow with a nude lip. Along with winged liner she lined it with a gold glitter liner.
Jasmine Sanders
2018 is the year of the braids! Jasmine Sanders walked the red carpet with a jaw-dropping embellished braid. It was adorned with red roses and gold string. This romantic floral-adorned braid may just be the most gorgeous style of the night. Perhaps the model was inspired to re-create the Rapunzel-like locks, or maybe she just really likes roses. One of the major beauty tips that you could pick from here was that how she let her hair do the talking rather than her makeup!
Rihanna
Rihanna is all sorts of goals! From her outfit to her beauty looks, Rihanna aces it all. She slayed the red carpet in a Pope-inspired look. Also if you look closely at her makeup, you may just see a hint at a new Fenty Beauty product. Our stalker-ish eyes never miss anything! She sported a metallic matte pink lipstick, and her eyes were smoked-out in a shade of gray. One of the beauty tips that you can pick is that, the combination of smoky eye, subtle pink lip (courtesy of Fenty Beauty Mattemoiselle Plush Matte Lipstick in Spanked), and double tendrils.
Rita Ora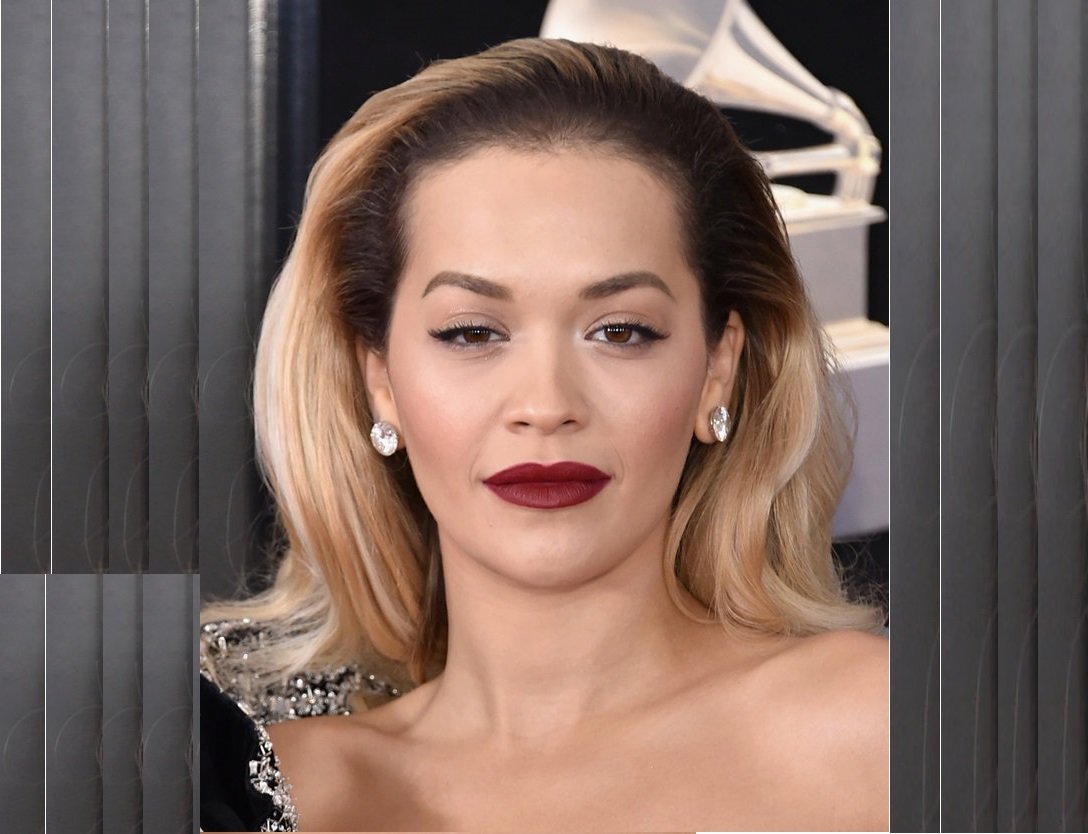 What we loved beyond everything in her look is her headpiece. The spiky Prada situation took three days to craft, which is what is stunning. The beauty tips that you can pick from this look is unrivalled. The poppy-pink lip and sleek, straight hair look has our heart. One of the beauty tips to pick is to always pair a pop-colour with a sleek hairdo!
Priyanka Chopra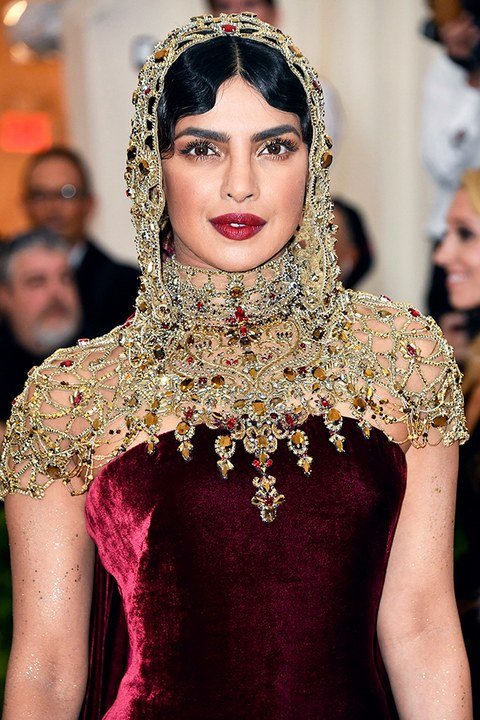 Our very own PC rocked the red carpet in that marsala outfit. The Ralph Lauren creation was completely crafted by hand, with Swarovski crystals, meticulous beadwork, and over 250 hours of embroidery. Though if you ask us, "ferocious" is truly the only word that comes to mind when describing Chopra's look, the gold-cascading headpiece, the deep-red lip, and the equally bold brows.