Skin is the best beauty that anyone could ever have. But the lifestyle changes, irregular sleeping habits, junk food play havoc on your skin. To combat all this, you tend to apply layers of makeup products on your skin, without knowing whether they are right for you or not. This results in breakouts and severe acne issues too. So how do you get flawless skin?
Getting skin that permanently looks like you're fresh off vacation—which is to say, healthy, radiant, and clear—is a combination of product, practice, and patience. The good news is that if you're short on the latter, there are still plenty of quick-fix solutions. Don't worry, we won't ask you to buy super expensive products or anything. In fact what we are going to list down are herbal beauty tips which are simple to use!
A Quick Face Massage Goes A Long Way -Using your fingertips, massage any serum or oil into your face before applying makeup. The stimulation can help get the blood moving to wake up your whole complexion.
Bend Over -This herbal beauty tip might sound crazy but hanging your head upside down for three minutes a day is a long-term strategy for getting that lit-from-within glow.
SPF – We can't talk enough about this herbal beauty tip. Wear sunscreen all 12 months of the years. This will ensure that your skin isn't harmed from the UV rays and can avoid a lot of skin problems later!
Clean Eating – What you put into your body is what your skin will show! One of the best herbal beauty tips is to change your diet to a healthy one. Having vegetables and fruits, drinking lot of water and increasing your intake of juices will go a long way in having healthy glowing skin.
Meditate – This is by far one of the best herbal beauty tips that we recommend. In today's highly competitive world, stress and strain can always take a toll on our skin. As a result, it becomes dark, dull and aged before the actual time. Meditation is the most effective way to get rid of stress, tension and anxiety. So take a few minutes off your hectic schedule and meditate!
Scrubbing – Out of all the herbal beauty tips you may have read, you might have missed this one. Scrubbing the skin helps in getting rid of the old and dead skin cells which helps in the growth and nourishment of the new skin cells. Scrub with a home-made scrub at least twice a week to exfoliate!
Pore Tightening Naturally - This is easily one of the best herbal beauty tips that we have ever got for pore tightening. Before and after a flight, run ice cubes over your face until they melt. Your pores will love this skin shocker!
Get Enough Restful Sleep - When it comes to improving the tone and texture of the skin, consider 'beauty sleep' one of the most important herbal beauty tips. Try to go to bed prior to 10 p.m. as it would help you fall asleep much faster. Deep rest will certainly keep you young-looking as well as radiant for long.
Mask At Least Twice A Week – Depending on your skin type, create simple masks that will improve your skin quality. Keep reading to find out what are the simple masks and herbal beauty tips that you can create at home for different types of skin.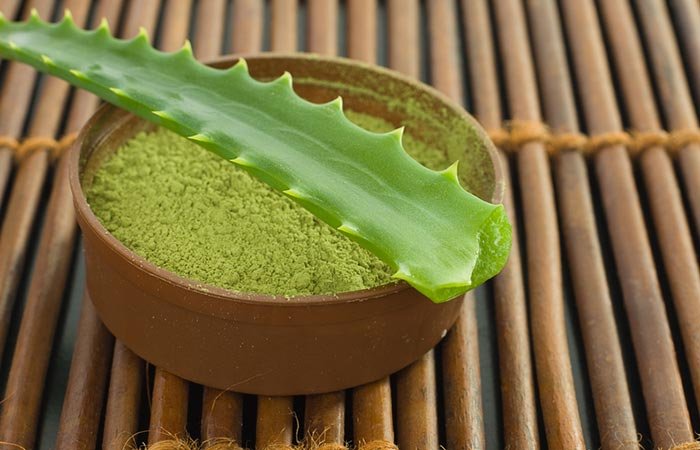 Facemask For Glowing Skin
Take a ripe papaya and cut it into small pieces. Add one teaspoon of sandalwood powder or Fuller's earth and one teaspoon of honey to it. Mix all of them to get a paste-like consistency. Apply it all over your face and neck. Keep it on for 20 minutes and then rinse with cool water. Do this once a week. Ripe papaya contains papain, an enzyme that acts as a mild exfoliator. This gently removes the top layer of dead cells on the face and makes your skin radiant and younger looking. It also clears the dirt and oil that can lead to acne and breakouts on the face. Multani mitti or sandalwood powder absorbs the excess oil from the skin and makes it soft and supple. Honey is a natural moisturizer and will hydrate the skin. It also reduces the blemishes on the skin. This pack acts as a skin firming and anti-aging face pack.
Facemask For Dry Skin
Mix one teaspoon of almond oil with one tablespoon of gram flour and blend until you achieve a cream-like consistency. With herbal beauty tips the best part is that you can adjust the amount of almond oil as per the desired consistency. Apply it to your face with your fingers. Avoid the eyes. Massage in circular motions. After 15 minutes, wash with lukewarm water. Gram flour or besan opens the clogged pores, and almond oil provides the essential vitamins that enhance skin health. This massage cream moisturizes your face and cleans it without drying.
Facemask For Blemish And Dark Spot Reduction
Soak the a few strands of saffron in the milk for a while. In a bowl, take one tablespoon sandalwood powder. Add the saffron milk to it and make a paste. Apply it to your face. One of the best herbal beauty tips is to apply focusing on the spots and blemishes. Let it dry and then wash with cold water. This face pack helps in removing blemishes and dark spots. It also helps in reducing rashes and inflammation (such as acne) and adds a healthy glow to your face.
Facemask For Oily And Acne Prone Skin
Mix one tablespoon of aloe vera gel and half tablespoon of turmeric in a bowl. Apply the mixture gently to your face and leave it on for 15-20 minutes. Rinse thoroughly and pat dry. Apply this face mask 2-3 times a week. The aloe vera gel nourishes the skin and protects it from toxins. Turmeric has antibacterial and anti-inflammatory properties that prevent breakouts and swelling.
So which amongst these herbal beauty tips did you love the most? Do let us know in the comments below!