Bridal makeup trials are everything in the world of bridal makeup! As professional makeup artists, we know how important is it to get your bridal makeup trial right for every bride-to-be. But are they really necessary? Like there are two sides to each coin, there are two sides to every bridal makeup trial too. Let's dive into what are the advantages and disadvantages of having a bridal makeup trial.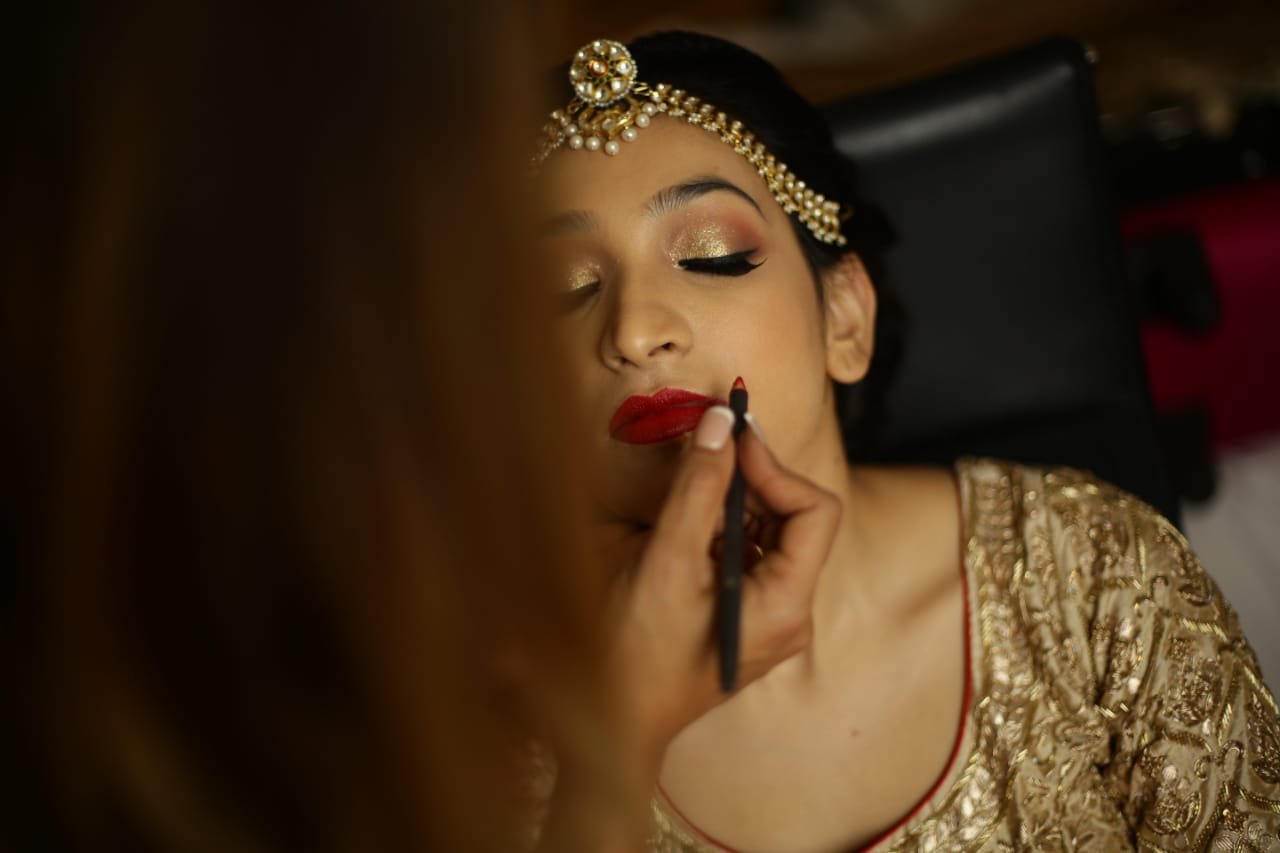 Pros
You Know What Your Makeup Will Look – A bridal makeup trial allows you to see how your final wedding makeup will look. Most brides haven't tried a full face of makeup before their wedding and it can get a little overwhelming on the wedding day. A bridal makeup trial allows you to do that in a much relaxed setting!
You Will Know How Long It Will Last – As the word suggests, a bridal makeup trial is a trial, so it allows you to check on how long the makeup will last. Indian weddings can long and exhausting but that's what professional makeup is for – to not budge. A bridal makeup trial allows you to check for any changes over the day so that you can ask your bridal makeup artist to adjust it accordingly on the wedding day.
You Can Experiment – Wedding day is total chaos. You are running on a strict timeline and there is no time to play around. That is why a bridal makeup trial will give you the time to experiment and try out a few looks that you like. Maybe an ombré eye makeup look that you may always wanted to try. Try it on the trial day so that you know what you would like as a final look!
Try New Things – Like we said, most brides haven't tried a full face of makeup before their bridal makeup trial. And even the ones, who have tried makeup, may have not tried other makeup details like false eyelashes, highlighting or even contouring. Your bridal makeup trial allows you to dabble in these and see how your look evolves.
Cons
There aren't many cons of doing a bridal makeup trial apart from a few small ones.
Price Point – Many bridal makeup artists charge you extra for a bridal makeup trial if you haven't booked them. So you may have to shell out a few extra bucks in the process of getting your bridal makeup trial done.
No Surprise – Most brides want that final surprise bridal look, which isn't completely possible when you have already seen yourself during the bridal makeup trial.
Too Many Trials Confuse – If you opt for too many trials from various bridal makeup artists, it can get a little confusing on whom to book. Sticking to 2-3 trials at the max is what is preferred!
Tips On Acing A Bridal Makeup Trial
Along with the pros and cons, here are a few tips on how you get the best from your bridal makeup trial.
Avoid Waxing - Waxing causes the pores to open and the skin to become super sensitive. If you apply any new product when it's in a sensitive state, it can cause irritation. Avoid waxing for at least two days before your scheduled trial date. The same applies for threading.
Don't Use Retinol – Check your creams if they have retinol and avoid using it at least 30 days before your trial. Retinol makes your skin extremely sensitive, and using it before a makeup trial could lead to extreme redness and even skin burns.
Avoid SPF – Just on the day of the makeup trial! Some foundations don't layer well on sunscreen so we would advise brides-to-be to skin this one on the day of your bridal makeup trial. Rest of the day, always use SPF.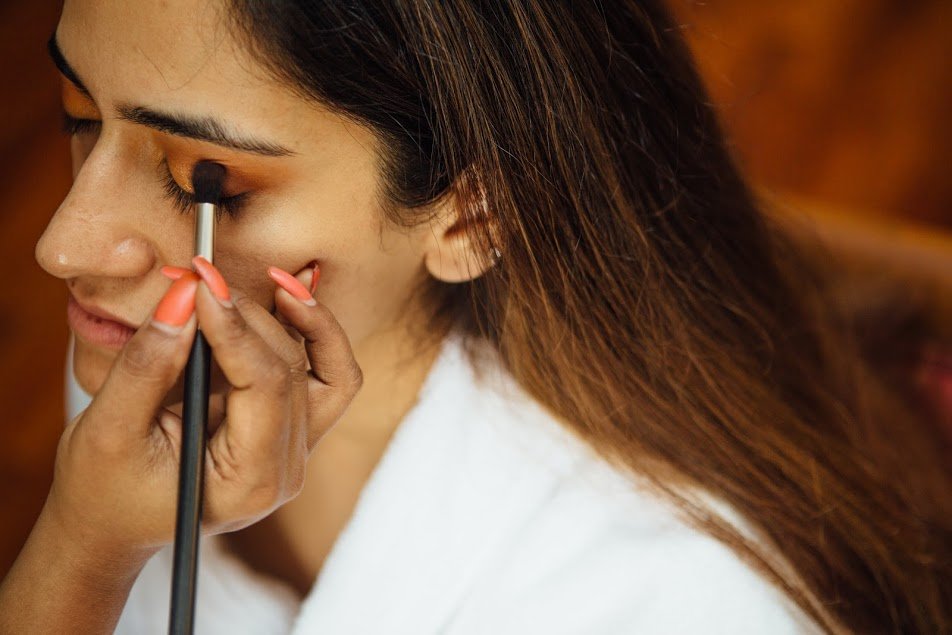 Do Take Pictures – This is crucial! A lot of brides forget to take pictures of themselves in different lights to see how the makeup photographs. If the flash is reflecting, let your MUA know so that they can fix it. Also, take pictures indoors as well as outdoors, so you have an idea of how it all looks. If you are also having a hair trial done, ask the stylist to take a photo of each finished look from four different angles: front, back and both sides. That way, you'll be able to see how you look from all views, and you'll get an idea of how the stylist's work translates to photographs.
Time It – On the wedding day it all comes down to timing. So make sure you time your bridal makeup trial to see approximately how long does the bridal makeup artist need on the actual wedding day. Do keep a buffer since the trial day is more relaxed and you are also talking in between but just to get an estimate.
Bring Outfits And Accessories – If you are planning on wearing any hair accessories or pins on the wedding day, bring it along on the trial day. That way your bridal makeup artist will know and fix your hairstyle accordingly.
Bring References – We know that brides have a whole Pinterest board dedicated to bridal makeup and hair looks. But bring only 4-5 references that you love the most. This will allow your MUA to tell you what will work on your hair and what wont.
Be Open To Suggestions – There is a reason why we are professionals! We never force a bride to do what we say but during the trial, be open to some suggestions. Some image that you have may not look good given your outfit or even skin type. Most hair styles look great on blond hair but they don't on Indian black hair, so listen to what your MUA has to say.
Sit in front of the mirror – Many MUAs don't let the brides face the mirror for that final 'reveal' moment. But don't do that during the trial. If you don't like something, tell the bridal makeup artist immediately. This way they will avoid wasting time on that thing, for you to later on say you don't like it. If a certain hairstyle feels heavy, tell them – you don't want to be in pain on your wedding day.
Look at a stylist's portfolio before you do a trial – Always do this before you book a trial! Every bridal makeup artist has a style which you should like and be comfortable in. Check their social media pages or even request them to share a portfolio before you book.
Now you are all ready for your bridal makeup trial, or even trials!