It's that time of the year again! 2019 begins with a bang with the stars of Hollywood walking on the red carpet of Golden Globes and breaking the internet with their stunning beauty looks. While every year it brings every Hollywood celeb out on the red carpet, this year some of them amazed us with their gorgeous beauty looks. From trends that are ruling the roster to trends that they created on the red carpet, everything possible happened!
These women in the film industry are embracing some of the biggest beauty trends from the runway and adapting them for the red carpet. And we loved it!
Anne Hathway
The Princess Diaries star looked absolutely smashing on the red carpet this year. Quite a transition from her rosy cheeks days, we must day! Her hair was sleek, which gave room for her makeup to shine through. She wore a nude lip (which is the trend currently) but the shades that dint wash her skin tone out but instead gave her a subtle glow. We also like the minimal brow and lovely eyeliner on her otherwise minimal look.
Charlize Theron
We can't get enough of Charlize's hair at the 2019 Golden Globes. Its sleek, it's half up and down and it's magical. We love when hair artists take out the time to actually construct a work of art. Her blonde hair with a little tie of that ribbon is just the hint of colour you want without it being over the top! The coral-nude lip along with the slight blush-bronzer is perfect too.
Emily Blunt
While she always stuns on the red carpet, this time she created a different trend, especially with that stunning dress – a grey smokey eye! She kept the rest of the look simple and let her eye makeup do the talking and we loved that. The dutch braid in her hair with diamonds also takes the cake when it comes to doing an updo. What we loved the most is that she dint go all sleek and clean, she kept it a little messy – just the way braids are supposed to be!
Camilla Belle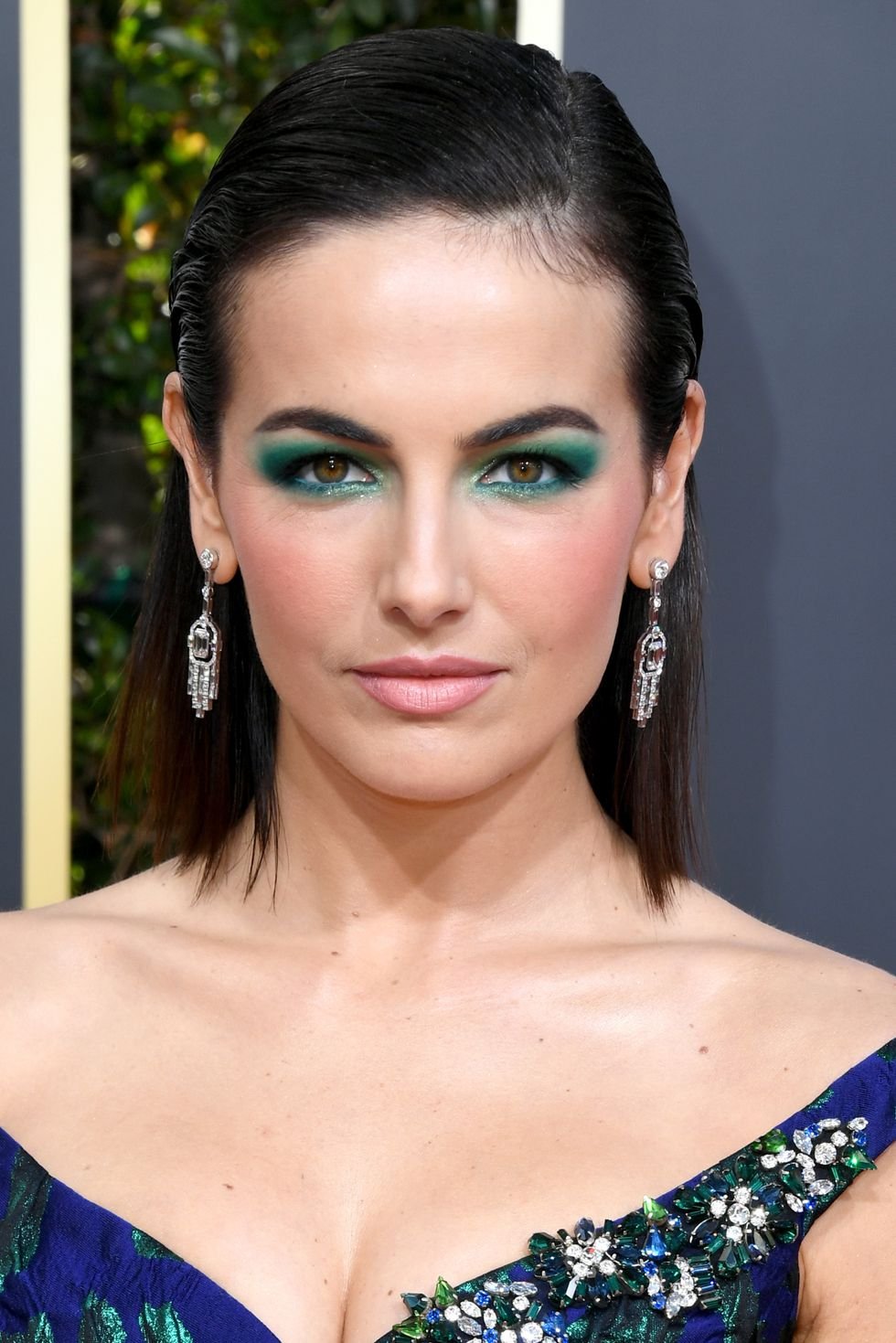 This has to be the best eye makeup on the red carpet this year at Golden Globes. Camilla Belle sported a dramatic teal eye makeup look and we love it. They dint just stop at that! They gave her equally dramatic eyeliner along with mascara that took the look to a completely new level.
Rosamund Pike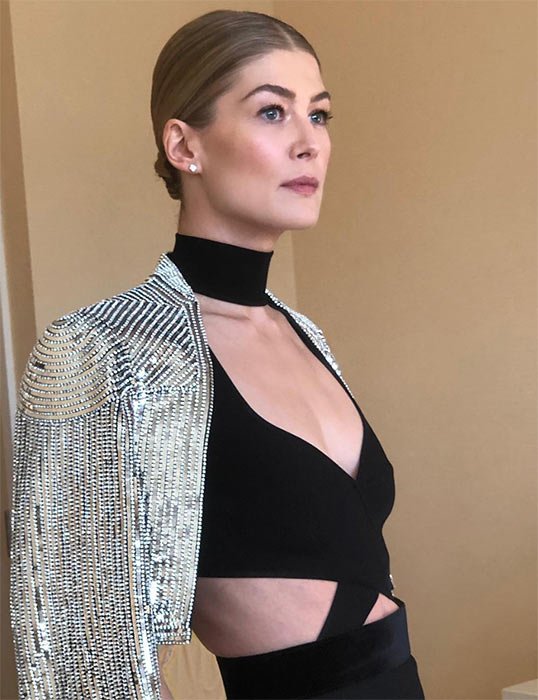 If you want a clean makeup look inspiration, look no further than Rosamund Pike for this year's Golden Globe red carpet. Keeping in line with her dress, she created a makeup look that was as graphic as her red carpet number. They went with clean brows and a clean base, along with a matte lip. Her hair was the showstopper in her entire beauty look!
Emma Stone
If princess was a keyword for makeup and hair, Emma Stone nailed it at the Golden Globes red carpet this year. With pearls in her hair and a light dewy makeup look, she looked dreamy.
Gemma Chan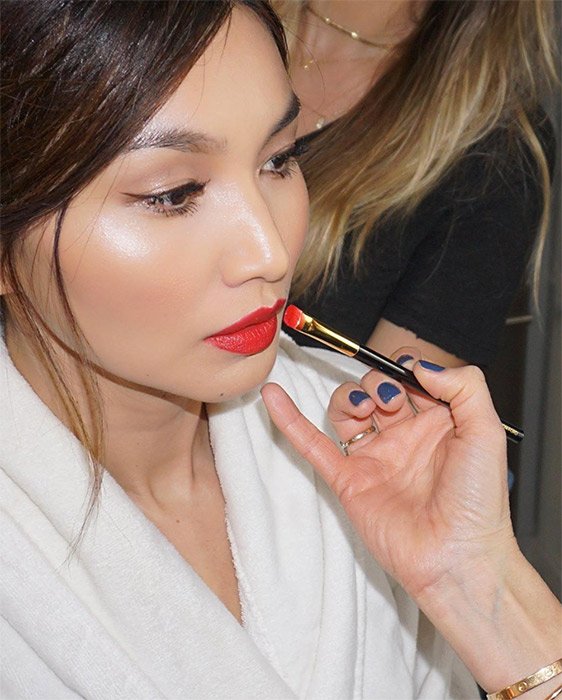 This list can't be complete without the perfect red pout! Crazy Rich Asians actress Gemma Chan wore the perfect red lip colour to the 2019 Golden Globes. Along with that she went with sleek eyeliner with slight wing. We loved that she kept the rest of her makeup dewy, which let that red pout stand out even more.
Kate Mara
Two statement looks in one red carpet appearance – we love it! Kata Mara chose to sport a wine lip along with a high bun with a gold band. The wine-stained lip colour was a perfect choice amongst all the red and nude lips. Her sleek hair gave a completely different and angular structure to the face, which complimented the makeup as well!
Image Credits – Hello! And Getty Images
Lupita Nyong'o
Nobody does makeup colour better than Lupita, especially on red carpets. This year for the Golden Globes, Lupita donned blue eyeliner as well as blue mascara along with a metallic lip. Too much? Nope! In fact by just lining the under eye and letting the blue mascara do the talking, she elevated the entire look. That metallic lip is here to stay too!
Lady Gaga
While the world went crazy on whether her dress was lilac or periwinkle, we drooled on this stupendous look. While blue hair is smurfy, we loved the fact that she did an ombré blue shade to match her beautiful gown. Shimmer on the eyes with a nude lip – what can we say, she never goes wrong!