Cannes is not just a film festival where Sonam and Aishwarya, now even Deepika go once a year. Who's who of Hollywood as well as film fraternity from all over the world jet out to the south of France for the prestigious Cannes Film Festival. Year on year, the celebs wow us with their fabulous beauty looks and this year was just another rock star year. Here are some of the best beauty looks that turned our heads on the red carpet in 2018.
Lupita Nyong'o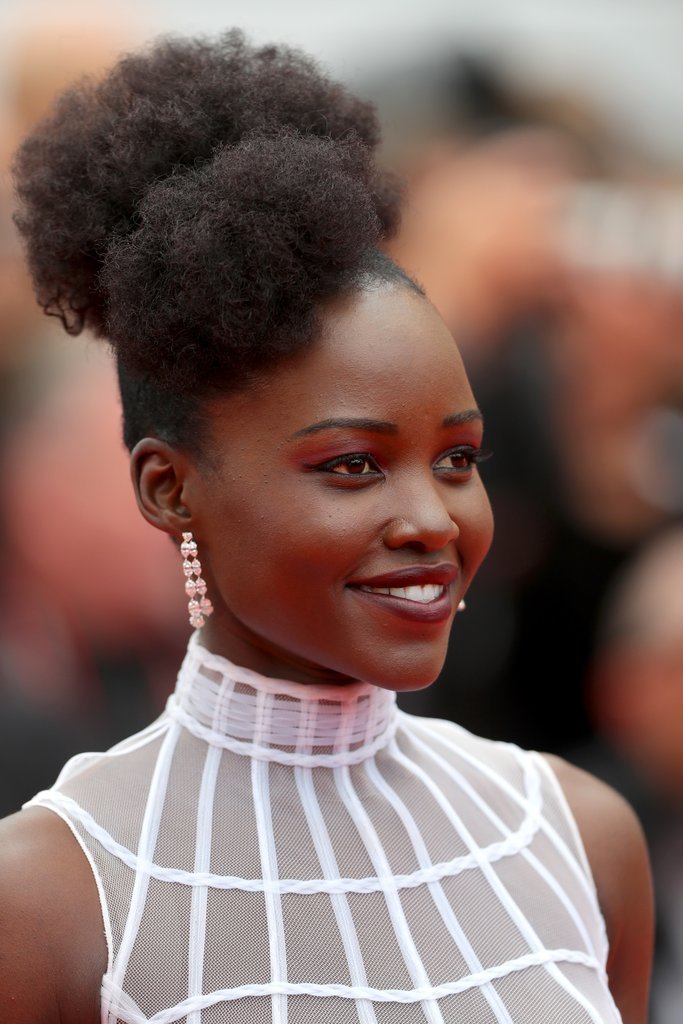 Cannes is one place where you can show different looks under one roof and that's exactly what Lupita did. And they were all gorgeous ones! But what caught our eye was this stunning hairdo. Her afro was styled in a way that was reminiscent of lots of bubble ponytails and was definitely a highlight! Regards to her makeup, the bold metallic eyeliner was minimalistic while still being dramatic, which is so much fun!
Kristen Stewart
She set the bar really high this year! As always, wherever she goes, Kristen epitomises cool-girl chic. Her Cannes ensembles were no different. She first created ripples with her 'no heels' stand and then with her mane! Her two toned coif was a major talking point on the red carpet. Her locks were kept voluminous in a barrage of wound-up or pinned-back styles—polished brown at the crown and blanched at the tips. As for her makeup, her matte red lippie was a great take on the classic red lip with a little twist!
Xenia Tchoumitcheva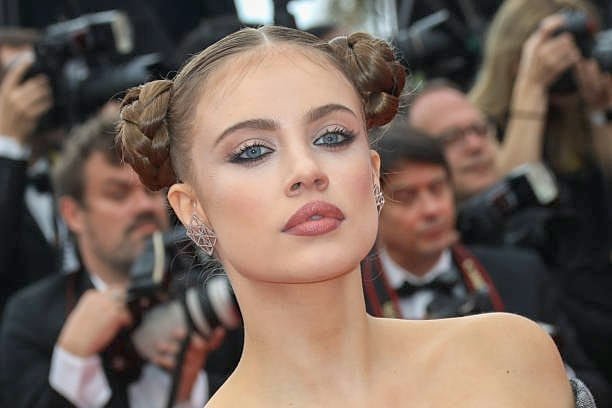 Who doesn't love hair like that?! The world renowned model and blogger Xenia was seen sporting braided double buns which according to us is going to be the hottest hairstyle of 2018! Though some might find it tad casual for the red carpet but this ode to space buns in such cute braided buns is total goals! Also, how could we miss that smokey eye liner, so good!
Li Yuchun
When we say less is more, this is what we mean! Less makeup doesn't mean no-makeup; it means to create that perfect look that would look bare faced yet beautiful. Li Yuchun could have pulled this off better! Her skin is flawless and her Cannes make-up was minimal. A subtle winged liner was all that made a difference to her face. The best part of her look was her navy blue pixie cut, which is making us consider a major hair makeover.
Amber Heard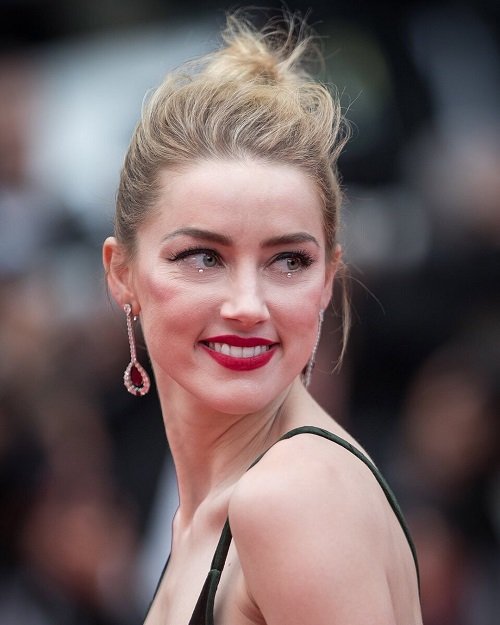 When we first looked at Amber Heard, we thought she went old school with a red lipstick but boy, were we in for a surprise! While her red lipstick was a classic bold but the small diamantes under her eyes glammed up her look several notches. The Cannes is known for bringing in surprises in beauty looks and that's what Amber did. On our third look, we also saw glitter eyeliner peeking out. It's like surprises are there on every look you take.
Irina Shayk
Does this super model ever get it wrong? Irina Shayk not only sported a stunning beauty look but also taught us a thing or two about wearing a red lipstick in a modern way. Her barely there eye makeup with a messy-yet-stunning hair bun allowed her red lips to do the talking. So a beauty tip for all is, when you wear a red lip, go bare on the other makeup fronts.
Marion Cotillard
This French beauty is forever Cannes winner. All her red carpet looks are stunning as they go. She nailed the rooty wet-look trend with her slicked-back bob and how! The bob gave her a real soft look while the slicked back transformation gave it a modern edge. Her rest of the face was kept minimal so that her cherry red lips to pop against it. How simple yet surreal!
Diane Kruger
This red carpet stunner gets the brief on point. Be it Oscars or the any other Gala, it's rare not to see Diane Kruger on the A-list of the best beauty looks. She went old school retro with her look. The super sleek bob and delicate champagne tones across her makeup not only gave it an angelic look but also accentuated her facial features, which are already so stunning! We always believe that makeup should be used to enhance rather than change, which is exactly what she did here.
Bella Hadid
When we talk about one of the biggest models on the globe currently, we know that she just can't go wrong! She sported multiple looks at this year's Cannes, but the one that caught our attention was this really demure look which was totally not expected from Bella. She wore a faux fringe styled into a high messy bun which made the look less 'lady' and more cool girl.
Léa Seydoux
Lea Seydoux is going to get us into trouble! Because after we have been her berry lip on the red carpet, we are obsessing over every berry shade and throwing away the rest! We are kidding (we don't throw makeup!) But Léa Seydoux's berry lipstick was a total stunner in a sea of red and nude lips. And we loved that she dint just stop at that. She went ahead and sported a slicked back hairdo that makes us want one too!
Winnie Harlow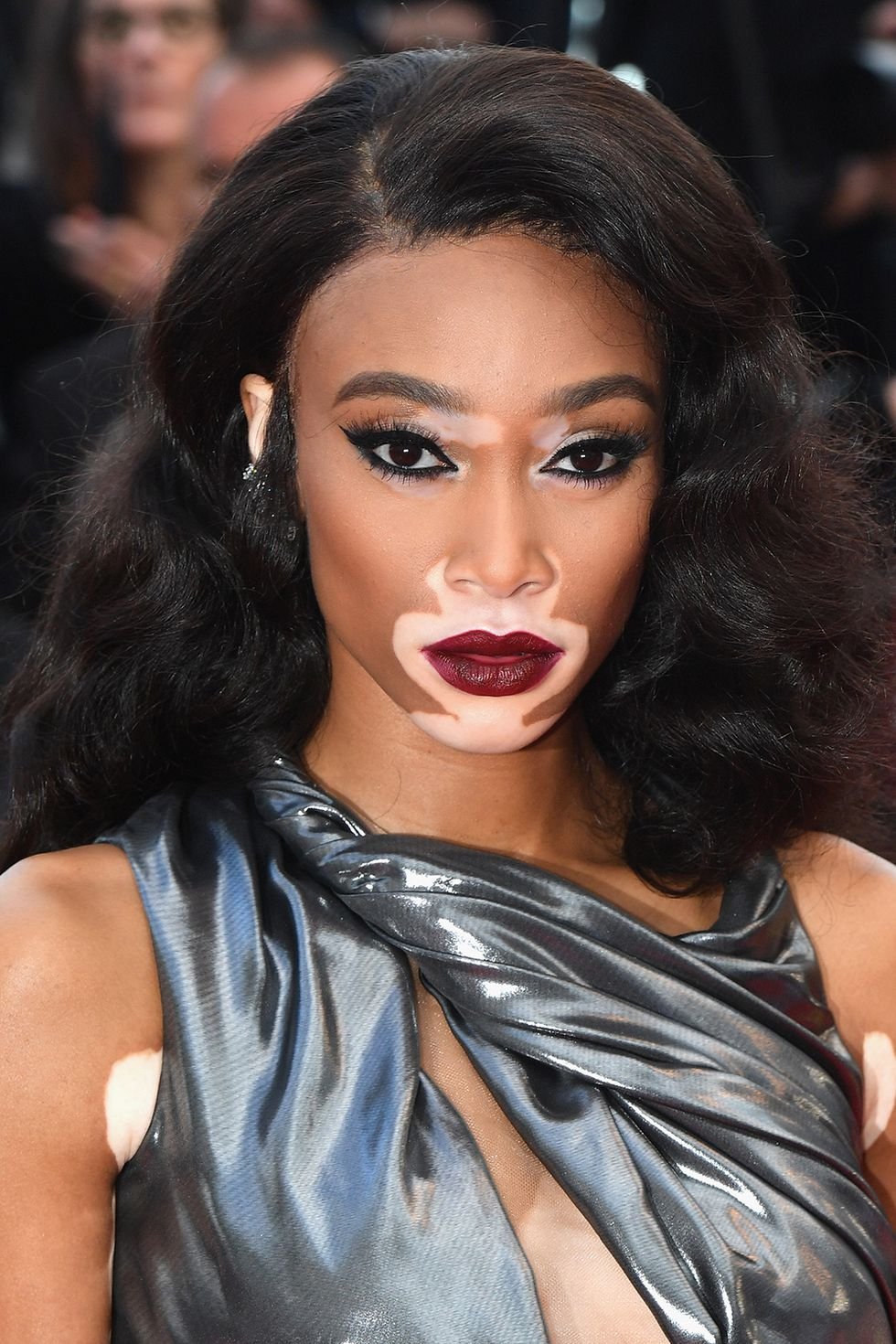 If you could search the word 'bombshell' in the dictionary, it would have Winnie Harlow's picture next to it. She was all sorts of beautiful in the classic Hollywood style. She opted for those beautiful waves in her hair and well defined cat eyes that make us drool. There is a reason why it's called a classic, you know! Don't forget the berry lips – so amazing yet again!
Deepika Padukone
And of course how can this list be complete without our very own India contingent. Though this was just her second year at the Cannes, she pulled it off with equal parts of fun and sexiness. This black smokey eye makeup was stunning against the feminine pink of her oversized dress. And no one can do pulled back sleeked hair like Deepika, but we loved that she kept it casual with a textured bun rather than a sleek ponytail.